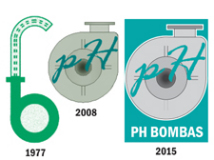 This project was conducted in partnership with Vox Digital, creating company websites and digital marketing agency. Every effort has been focused on the presentation of PH PUMPS clearly and objectively. Our material, both digital and printed, is designed to bring the best interface you, using light colors, technical drawings and accurate information about our products and services.
On the site you will find all our product line, download the new catalog, Working philosophy, history, differential and will also feature this news space that will present all that is related to our industry.
In the image above we present a timeline represented by 3 logos created from the foundation to date.
If you are a passionate as we, periodically visit our website and follow our releases and everything about centrifugal pumps, valves and hoods / fans.
We appreciate the attention and good navigation,
Team PH Pumps
Come Back